Description
If you want an exciting oral sex experience, then it's your new best friend! The super vacuum suction of this oral sex masturbation cup will give you a good workout of staying power (Don't cum all at once.)! 7 powerful suction and rotation intensities and modes, as well as the tongue inside will send you into an erotic wonderland. Each mode offers a different realistic oral sex sensation. Sucking and rotating functions can be used simultaneously or separately. Users can even use the suction as a penis pump to train the penis to become bigger and harder.
Automatic Masturbating Fun: This male masturbator is designed with 2 motors, one for the spinning feature to rub the cup on the penis for passionate climax, the other is for clearing out the air to create a vacuum condition that inmitates blowjob sucking to the glans for the ultimate ejaculation.

7 Sucking & Rotating Modes: This pocket vagina has 7 powerful sucking and rotating intensities and patterns, each mode could provide different realistic oral sex feelings. The suction and rotation features can be used together or alone. User can even use the suction as penis pump to train the penis to make it bigger and harder.

Cold/warm water bath: This masturbator is The First Electric Male Masturbator that could be used in water, all wires and motors are well-sealed with waterproof materials. User could actually get REAL WET with this sex toy, go use it in bathtub or swimming pool. Please do cover up the charging port when using in water. Users can add cold or warm water to use this erotic device to work on your staying power!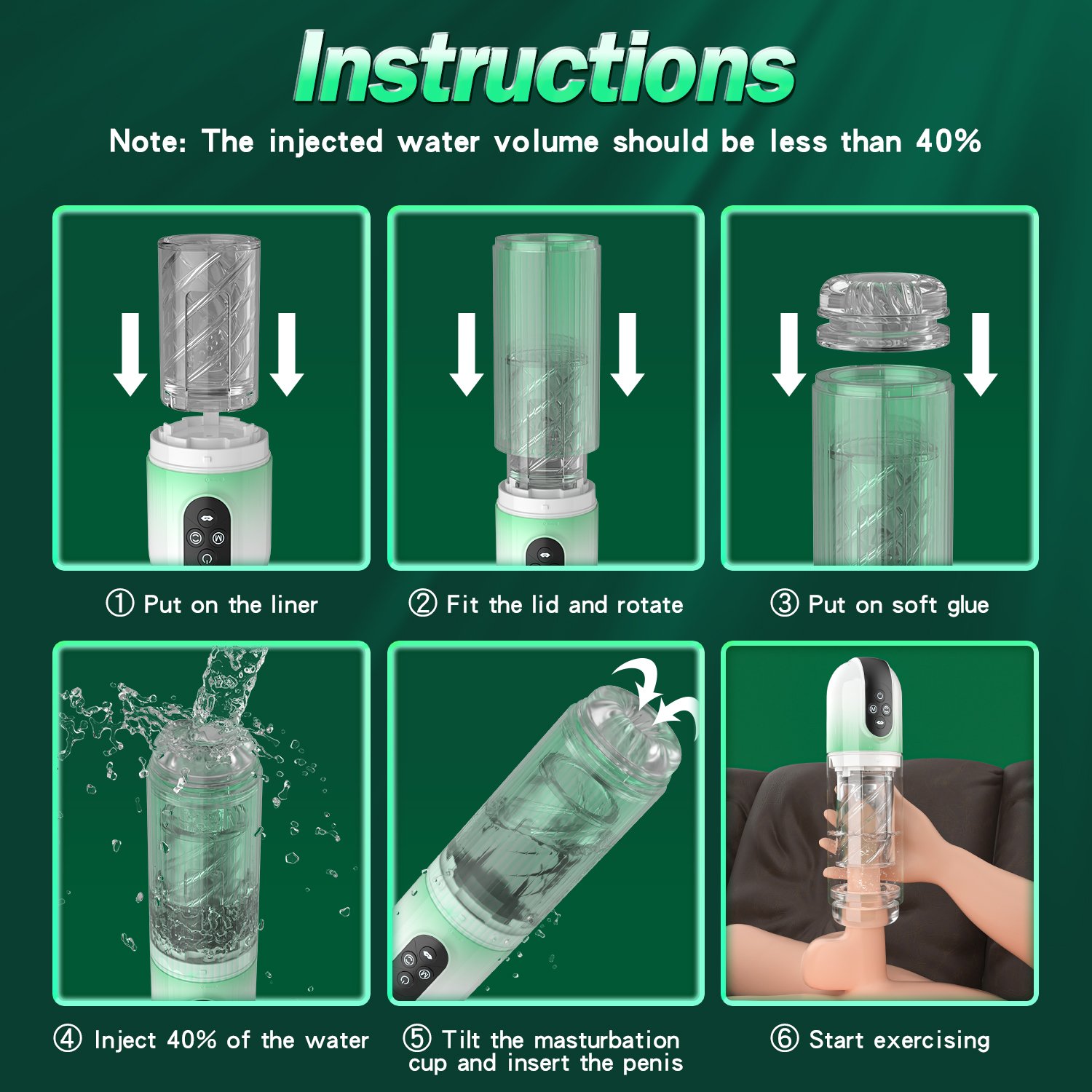 Soft & Flexible Inner Sleeve: To provide the comfortable and real sex fun, this sex cup uses flexible and soft silicone for the inner sleeve. Inside the sleeve, hundreds of tentacles will touch and rub the peni like sea anemone, each tentacle contribute to get the user a step closer to the big O.

USB Rechargeable: This male sex toy is rechargeable through USB cable. The shell is designed with anti-skid texture for holding it better in the thrusting.

Discreet Shipping: This masturbator is packed and shipped with box that shows no product information, just to ensure user's privacy.
HOW TO CLEAN
PRODUCT LIST
Payment & Security
Your payment information is processed securely. We do not store credit card details nor have access to your credit card information.